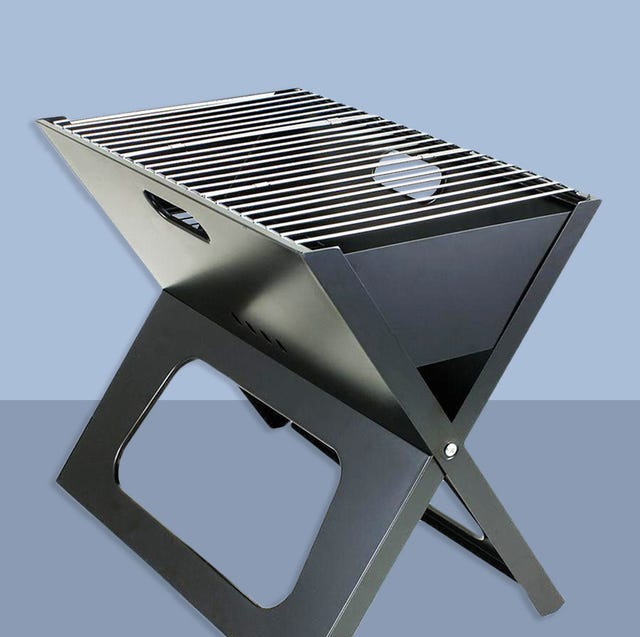 Courtesy
I have never understood those who love a minimalist camping trip. "Just me, my knife, and my canteen." That's really nice for you, but with all due respect, screw that. Now, I'm not saying you ought to bring two power generators, three portable air conditioners, and all your tablets. Camping is still a chance to hang out in nature—to be adventurous, and also serene. But some extra lights, better cooking materials, comfortable chairs, and a dependable speaker have only, in my experience, made camping a hell of a lot more fun.
Because the most important thing with camping is planning ahead, we're giving you some options now so that whenever you're able to book a campsite and escape into the wild, you'll be ready. If your tent is a few yards away from the parking lot, go big and heavy-duty. If you are planning a four-to-seven mile hike to the campsite, choose lightweight items to round out the rucksack. All the coolest camping gear and gadgets—to help you become one with nature, while still being comfortable—are here.
Advertisement – Continue Reading Below
Beacon Lantern
Sure, fire light is nice, but you'll need something machine-made, too. Barebones has a ton of lanterns, but two really stick out: the Beacon hanging lamp and the larger Forest lantern. While the Beacon's carabiner clip makes it more portable, the Forest gives more coverage. Both have incredible (and rechargeable) battery life and dimmer settings, and both are the rough and tough quality you need for camping.
On Tap Growler Set
MiiR
bespokepost.com
$55.00
Staying hydrated while camping is important, but staying tipsy is arguably more important. The MiiR growler works for both. It has a slim and lightweight design, with stainless steel walls and airtight seals to keep drinks cold. It also comes with two camping-approved tin cups, along with some incense cones designed to keep the bug swarms to a minimum. All said, it's a really nice setup for bringing your cocktails—or, yeah, your water—out into the wild.
Adventure Flask Kit
A compass, a flashlight, a flask, and shot glasses—the total package. Maybe packing those shot glasses and flask by themselves would be a tough sell, but adding the compass and flashlight makes VSSL's Adventure Kit a vital, multi-use camping gadget.
Rechargeable HeadLamp 200
Headlights may look goofy, but they're so necessary. This BioLite headlamp has a great fit (no bulky battery pack) and stays powered up to 40 hours, depending on the setting. It's also very affordable. You will use it for every trip to the latrines and every post-hike, late-night scramble to build the fire in pitch blackness. Read our full review here.
X-Grill Portable Charcoal Barbecue
ONIVA
homedepot.com
$49.97
Of the three cooking options on the list, this guy is the most straightforward. It works for those camping chefs who like the smokey taste of charcoal, along with a more structured work station than what you get by throwing some hot dogs on sticks to roast over a campfire. I mean, c'mon, the grill folds flat into a small, square tote. It's a BBQ that you can carry for miles, and if that's not a near perfect camping gadget, I don't know what is. 
City Grill
Kenyon
cookwithkenyon.com
$425.00
Now, this grill requires a plug (which really isn't a problem these days), but it's still portable as long as you're not going on a trek to get to the campsite. The City Grill was designed for terraces, beaches, and camping, and operates as closely to a full fledged grill as possible. The cook you get on this thing is impressive. Plus, when you're not in the tree-ridden wilderness but the taxi- and smog-ridden city, it's still useful. 
Wood-Burning CampStove 2
For the third and final cooking option, we've got the BioLite stove. This thing is pure science. Not only does it give you gasless fire powered by sticks and twigs, but that fire is also smokeless. Additionally, the setup taps some kind of dark energy to include a USB charger that'll amp up your phone. Pretty rad.
Quick 2 System Cookset
It's a pot, full of other pans, dishes, mugs, and a strainer. There's something so satisfying about camping with compact things. With this, you can get more creative than sticking potatoes wrapped in tin foil in coals.
BoomBottle Waterproof Bluetooth Speaker
Scosche
amazon.com
$99.99
I'll say it again: Multi-functionality is essential, and this guy's got it. It's a waterproof Bluetooth speaker and a bottle opener. As if those two things were not important enough, it has this really slick magnetic holder for a phone, so that whichever phone is DJ-ing is accessible to everyone. The battery lasts 12-plus hours. And you can string a few together to create a surround sound effect at your campsite.
EcoTrek GDI-EXTRK210 Waterproof Bluetooth Speaker
ECOXGEAR
amazon.com
$229.99
$179.97 (22% off)
This is a big speaker—not ideal for a long journey on foot. But if this is one of those chill, hang-out camping trips, get the EcoTrek. It's got booming sound, good battery life, and a charging port. If your camping trip has any water activities, it's waterproof and even floats. And as you can see, this thing has a million buttons, so it's gotta be cool, right? Rest assured it has a million buttons because it does a million things, including receive AM/FM, in case you want some talk radio or a shitty Bluetooth connection is pissing you off. Oh, and it also has two cup holders.
Ultra-Light Acoustic Travel Guitar
Traveler Guitar
huckberry.com
$300.00
There's always a bard in the group. And there are few things more annoying than the bard who only lugs his acoustic guitar to the site instead of helping with anything else. Live music can be a blast on a camping trip, but it's a calculated risk that needs to take up space accordingly. With this two-pound guitar, he'll be able to carry something more important. Like the food, or alcohol. Fingers-crossed he's a decent player.
Stealth Snow Shovel
DMOS
huckberry.com
$119.00
Shovels: You never know you need one until you do. The DMOS Stealth shovel is about as cool as anything on this list gets. It's completely collapsible and lightweight, making it no problem for packing and an absolute lifesaver for fire pits. Or snow. There's some quote to be said here about preparedness, but I'm not an Eagle Scout, so I'd probably get it wrong. Read our full review here.
Grand Mesa 2-Person Tent
Kelty
moosejaw.com
$97.46
This is a just-plain-reliable tent, especially for beginning campers or campers in need of a spare. It's affordable, while durably built to keep you safe and dry. It's also extremely easy to set up and tear down. Setting up a tent is one of those things that looks exactly like it does in the cartoons if the weather's rough or you're a newbie. Poles poking eyes, tent fabric enveloping people, etc. So if you're unpracticed at the whole tent thing and don't want to look like an idiot, this is your best bet.
Entry Pack TS
Snow Peak
snowpeak.com
$1,149.95
This is the Ritz Carlton of tents. All of Snow Peak's tents are phenomenal, but this one offers a living area and multiple bedrooms. Bring a whole dining room set and hold game night inside it. Or maybe pack a nine-piece orchestra and let them perform. You probably won't do that, but you damn well could.
Camp Chair
Kawartha
theclymb.com
$90.00
This chair is unbelievably light, like so light, and yet it still holds up to 330 pounds. And it's about as nice-looking and comfortable as a portable chair gets. But the best part, hands down, is just how compact it is. You could probably add three of these to your bag to match the weight and size distribution of a traditional lawn chair.
NanoLoft Puffy Blanket
Rumpl's signature design is its outdoor blankets, which make the quality of camp life much better, primarily by keeping you warm without weighing you down. But aside from that, corner loops let you secure the blanket to the ground—a small feature that fixes one of the most annoying problems of camping and picnics. And there's a cape clip, so you can wear the blanket around hands-free. Rumpl stuff is made out of outside-friendly materials that are durable as all holy hell. Read our full review here.
Tundra 65 Cooler
YETI
huckberry.com
$350.00
You need a drink cooler, and if you don't think you do, then what are you even doing while camping? This thing is incredibly strong, sealed like a spacecraft to prevent leakage, and big enough to hold up to 42 canned drinks. It can even be a bench if you need some extra seating while you shoot the shit around the campfire, drinks in hand. But if this behemoth is just a bit too much for you, Yeti makes the exact same one but smaller and $100 cheaper.
Survivor Knife
Coalatree
bespokepost.com
$55.00
Let's be honest: One of the best parts of camping is getting to outfit yourself like Rambo. Sure, knives and hatchets are useful for a few days in the woods, but damn if being able to carry blades doesn't make you feel like a real badass. The Haswell survival knife is a gorgeous, carbon steel option, with a wooden handle and a leather sheath. It does everything you need a wilderness knife to do, plus hits that nice medium between classy camper and rugged action hero.
Mini Tactical Tomahawk Hatchet
SOG
bespokepost.com
$60.00
I can't stress this enough: Camping is one of the only times you're allowed to bring out all your sharp toys. Of course, use them responsibly. While in most other situations hatchets are more of a trendy interior design accessory, this mini tomahawk is solid camping gear. It's small, saving you space, and versatile. Use it to gather firewood or play some ax-throwing games, if you're sober and into that sort of thing.
Infinite Edge Pro Bow Package
Diamond Archery
amazon.com
$343.71
Go shoot some arrows in the woods, as long as it's legal and safe and all that other narc stuff. With this bow, you could do target practice or go hunting for dinner (if that's something you're capable of). Archery is another one of those fun, really-only-okay-during-a-camping-trip hobbies. Any other time, you'll just look like a Robin Hood wannabe.
Subscribe to Esquire Magazine
This content is created and maintained by a third party, and imported onto this page to help users provide their email addresses. You may be able to find more information about this and similar content at piano.io
This commenting section is created and maintained by a third party, and imported onto this page. You may be able to find more information on their web site.
Advertisement – Continue Reading Below