Carol Fielding, 53, of Spartansburg, first explored her interest in backpacking during college, but what became her bucket list moved to the back burner when reality settled – that is, until now. A dozen books, day hikes and 32 years later, Fielding is preparing for a six-month hike on the 2,198.4-mile Appalachian Trail (AT), by herself.
Fielding said the first question people typically ask her is 'why?' 
"When I was in college, I went on a two-week backpacking trip that had an immense impact on me," Fielding said. "I was in a bad place mentally, but in those two weeks, I learned so much about myself — a new self-confidence and inner strength put me into a new frame of mind."
After college, she got married, got a job and had kids. Now that her kids are grown up and her jobs allow her flexibility to take six months off, she's back to it.
"This has been a goal since college, so, I'm seeking to accomplish one of my life goals," Fielding said. "Thirty years after graduating college, I began to plan in earnest."
She began to crack down on her bucket list again, beginning with reading a lot of books, talking with other thru-hikers and visiting Allegheny Outfitters, where she talks for hours with people. Then, she began purchasing gear.
She said that she has been putting away a little bit of each paycheck she received for the past two years to fill the financial gap while she goes on her six-month trip.
Physically preparing, she started doing walks from Corry to Spartansburg on back roads, then graduated to longer hikes in Oil Creek State Park and Allegheny National Forest. She began hiking with 30 pounds in her backpack, eating dehydrated meals on the trail and using various exercises to strengthen the muscles in her legs.
"September was my 'shakedown' hike, which is basically a long-ish hike where you find out what works, what doesn't and if you really like hiking," she said. "We [Carol and her husband, Bruce] did just over 70 miles between Duncannon and Port Clinton. As it turns out, I love long-distance hiking."
She won't be completely alone, though. There are 36 people registered to start at Springer Mountain the same day as her, so she says she's sure to gain a trail family or "tramily" as she calls it.
Her husband, Bruce Fielding, will join her for the first week and a week here and there when he can get time off from work. March and April are the most popular times for trail hikers to start the AT, according to Fielding.
She's well aware of the statistics against her though. She said 75-80% of thru-hikers quit before they even get out of Virginia.
To combat the overwhelming feeling of the trail, Fielding thinks of her time on the trail as a series of short, four-to-seven day hikes. 
She also plans on taking "zero" days, aka days with no hiking, to rest and recover. She'll be able to resupply in nearby towns and receive boxes from home that include dehydrated meals she plans to make in advance.
She took into account the weather and planned her trip accordingly. The AT runs from the Northern terminus, Mount Katahdin, in Maine, to the Southern terminus, Springer Mountain, in Georgia.
Fielding will begin in Georgia and work her way up to Maine, on a timeline of late March to August. To her, the scariest part of the journey is the White Mountains of New Hampshire.
She has been preparing mentally, too. As other people might see it as stepping away from life for six months, Fielding sees it as an opportunity for growth.
"I don't see it as stepping away from life, but rather stepping into solitude, nature, self-reliance, simplicity, endurance, space to think, freedom," Fielding said. "We often struggle with sticking with something once it becomes difficult. We often quit when pain begins, whether emotional or physical.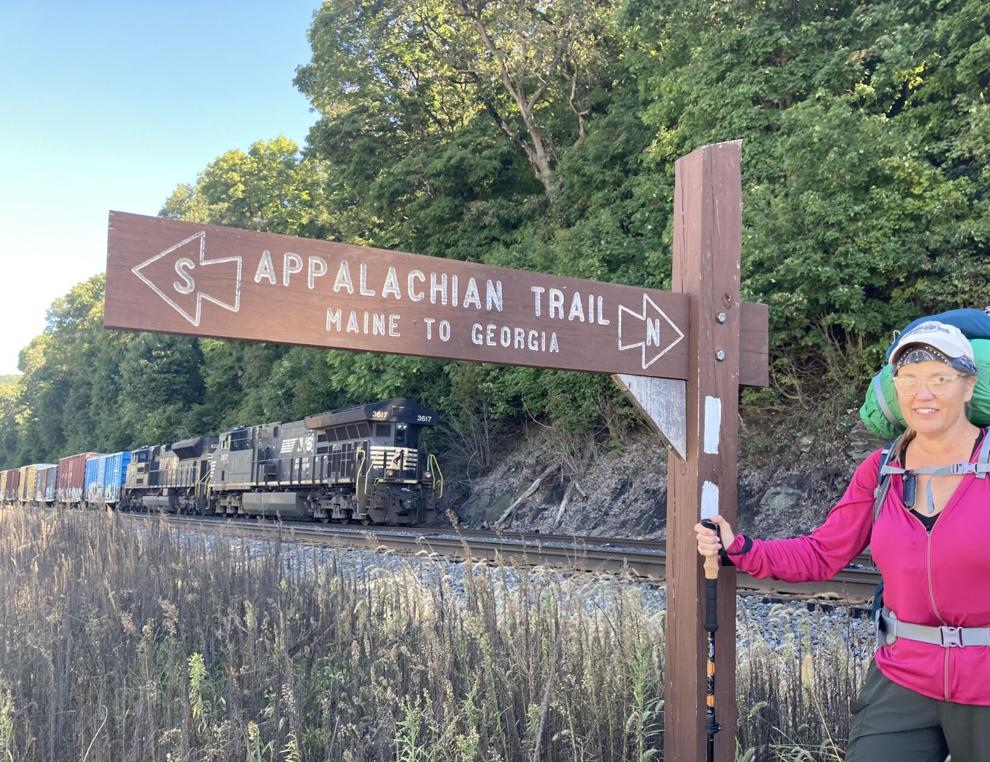 "Pushing oneself to an extreme level of exertion is not comfortable, but it is only then that we stimulate new growth. I believe the secret to completing the 2,194.6 miles of the AT lies in leaning into exertion and new growth. I have to be comfortable with pushing myself to my limit, and then taking a few steps beyond. I will remain malleable to what the trail and God have to teach me through exhaustion, exhilaration, pain and triumph."
She plans to read and meditate on one psalm each day. 
There is one person missing from the picture, though – her dad. Fielding's father died earlier this month, and they had talked a lot about the hike.
"He'd shake his head and say he was amazed that I would be doing this, but he also said he was proud of my commitment," Fielding said.
Her mom had also been invested and read some books about the trail with Fielding, but she died in 2021.
"Some people asked why I don't wait to do this hike until I'm retired," Fielding said. "In the last 13 months, I've lost a dear friend and both parents. Life is too short to wait."
Her first week is planned out already. From the September hike she did with Bruce, she said she found her limits and how to pace herself. 
She'll have Bruce by her side for the first week of the hike, and she said their goal is to hit but not exceed eight miles per day. From there, she will travel through Tennessee, touch the top of North Carolina, head into Virginia, Maryland, Pennsylvania (otherwise known as Rocksylvania on AT), New Jersey, New York, Connecticut, Massachusetts, Vermont, New Hampshire and finally, Maine.
"I intend to enjoy the journey," Fielding said. "My goal is to reach the summit of Katahdin and every summit in between. All I can do is put one foot in front of the other five million times."