My daughter and I had relaxed already but my son-in-law commented, "you work hard and finally earn enough money to enjoy your life, and you choose to spend a week out here living like a pauper." I think he's missing his X-box.
Just before dark, we have dinner: a pre-prepared tuna casserole (food always tastes yummier when you're camping) and head off to shower – a cold one of course. It's 7pm and still 31C but I head to bed anyway and sleep until 5am. One thing about camping is you sleep well!
Waking up to a chorus of bird sounds, tweets, chirps and twitters, as well as the laughter of kookaburras and the single eerie call of a curlew, I am connected with nature. Opening my eyes, I look out onto leafy gums and an overcast sky. And it's cooler! But not for long. The day heats up to another scorching 36C. Too hot to move, we sit round reading until the sweat from our hands starts sticking the pages together and we know it's "creek time".
Slathering ourselves in suncream to protect from the burning midday sun, we dive in. Ah, the cool! This waterhole is the perfect antidote to a hot day. A green grassy slope leads down to a rocky beach on this side, deepening to the opposite bank where huge branches overhang the clear water with the obligatory rope swings attached. Not for me these days. I used to love them as a teenager. Kayaks are pulled up haphazardly on the beach. Maybe I'll try one later.
Soon, we're cool enough for lunch- a salad and egg wrap. The heat doesn't let up so late afternoon we go for another dip and I have some fun being dragged behind a kayak. My daughter paddles down the creek as far as she can and mentions she has seen a platypus here. I'm not sure about swimming with platypuses so I urge her to paddle faster back to the lagoon.
Back at our campsite and cooler now, we play some games; first Scattergories until it becomes too dark to see and then a game we make up. We call it the Alphabet Game. Each of us has to name a Brisbane suburb beginning with A, B, C etc. It really gets our hot brains into gear. We share some cheese, dip, olives and crackers.
A storm is brewing so we are advised to batten down the hatches. The cars are put under cover to avoid possible hail damage and the job of securing the tent falls to me. The ground is rock-hard and I struggle to hammer in just a few of the tent pegs. I collapse into my chair exhausted and pray the storm misses us because that tent is not going to survive even the mildest gust of wind.
Fortunately, further north cops the brunt of the storm's fury and our tent is safe! I breathe a sigh of relief, shower and head to bed. None of us is hungry enough (or energetic enough) to cook dinner. Once again, I sleep all night.
Dawn breaks late and cloudy and much, much cooler. The kids head off kayaking while I babysit Phoenix the dog. She loves camping too. For her, it's a sensory theme park; a culmination of eucalyptus, deer dung, dead leaves and earth titillate her sense of smell and she sniffs everything. We spend all day reading and relaxing. The magic of camping is eating its way into my son-in-law and he's more relaxed than I've ever seen him. "Gees, I never get to read at home," he comments proudly after he finishes his book.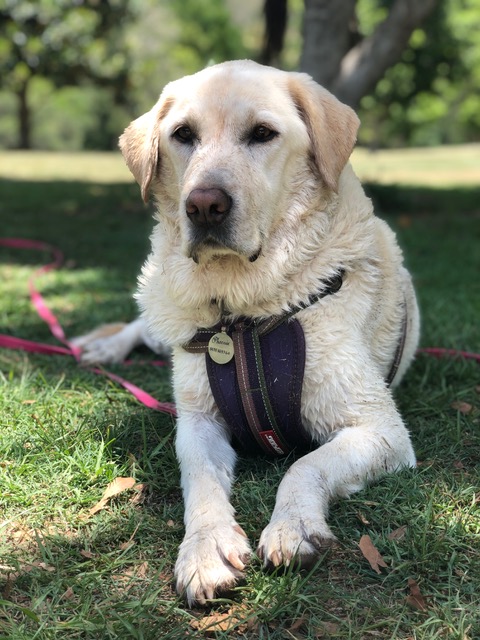 The plan was chicken burritos for dinner but the chicken fillets we have brought with us smell so bad that even I decide to toss them. We have tuna burritos instead – actually delicious, but maybe we are so hungry we'll eat anything except rotten chicken!
Our last full day here and it's hot again. My knee gives way and I struggle to get out of bed. When I shower, I look at my knee in the mirror. It's quite swollen and incredibly painful. I hope I don't have a blood clot. Icing it temporarily relieves the intensity of the pain and I resort to using my hiking stick to walk. Needing to play a game to take my mind off my knee, we play a Friends trivia game and then a Harry Potter one. Both are fun, but not the sort of game you can play over and over so we go back to our books. I've finished Boy Swallows Universe and start All Our Shimmering Skies, wishing I could write like that.
Our last night and it's cool enough for a fire. I love campfires – it's an integral part of camping for me – but it's just been too hot! I laugh that it's the only reason I'm brought camping – I can make a great fire, even in the pouring rain. We sit around the fire sipping gin under the stars and swapping stories from past camping adventures and contemplating life's mysteries. Gin unlocks a vault of questions. "When did you first go camping? Why would you start camping in your forties when you'd never done it as a child?"
For the first time this week, we stay up really late. All we needed was a fire!