During the current pandemic, travelers around the world have had to sacrifice their plans in order to abide by the government lockdown rules. However, as lockdown restrictions are gradually being lifted from countries, some have begun planning for future travel in the emerging era of the "new normal".
A survey conducted by Booking.com in August 2019 revealed that almost 83 percent of Indonesian travelers expressed interest in going to a destination with mountains. Around 79 percent said they wanted to stay active during their holidays, 68 percent would like to find a destination with hiking routes and 59 percent were interested in going to an area with cycling paths.
Below is a list of destinations in Indonesia considered to be ideal for travelers with hiking and cycling in mind, as compiled by Booking.com.
Mount Kelimutu, Flores
For those who prefer the road less traveled, Mount Kelimutu in Flores Island's Ende regency of East Nusa Tenggara offers perfect sunrises. Its three volcanic crater lakes, collectively called Lake Kelimutu, differ in color and change over time.
Where to stay: The rooms in Flores Passport House are specially designed with windows above the beds to give travelers a dazzling view of the sky. 
Mount Batur, Bali
Mount Batur is a perfect match for travelers who enjoy outdoor activities. The site is covered with fog early in the day, giving the impression that it is completely enclosed by clouds.
Where to stay: Black Lava Hostel and Lodge, which is located around 500 meters from Lake Batur. The lodge offers a terrace to enjoy the outdoor view and a barbecue facility.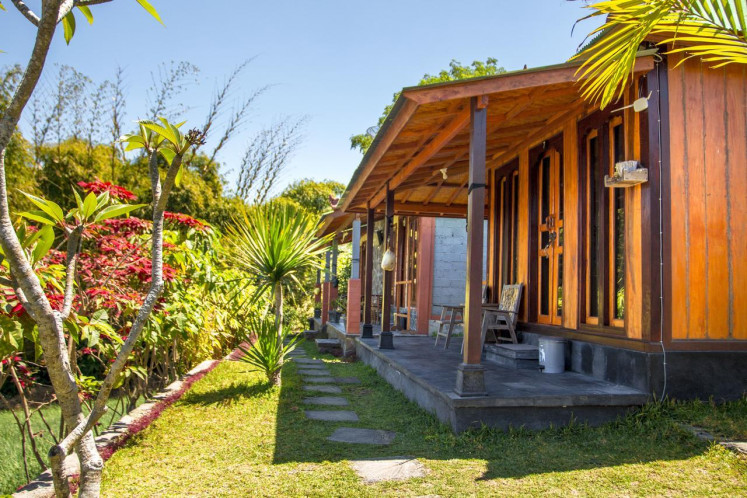 Black Lava Hostel and Lodge in Bali. (Courtesy of/Booking.com)
Read also: How to choose the right pair of hiking shoes
Mount Rinjani, Lombok
Mount Rinjani in Lombok, West Nusa Tenggara, is the second-highest volcano in Indonesia and features one of the highest mountain peaks in the country. Although it is located 3726 meters above sea level, one does not need to be a professional hiker to tackle its hike. One of its most popular spots is Lake Segara Anak, famed for its blue waters.
Where to stay: Rinjani Lodge is located in Senaru in North Lombok and features a view of Mount Rinjani along with a gorgeous view of the lake.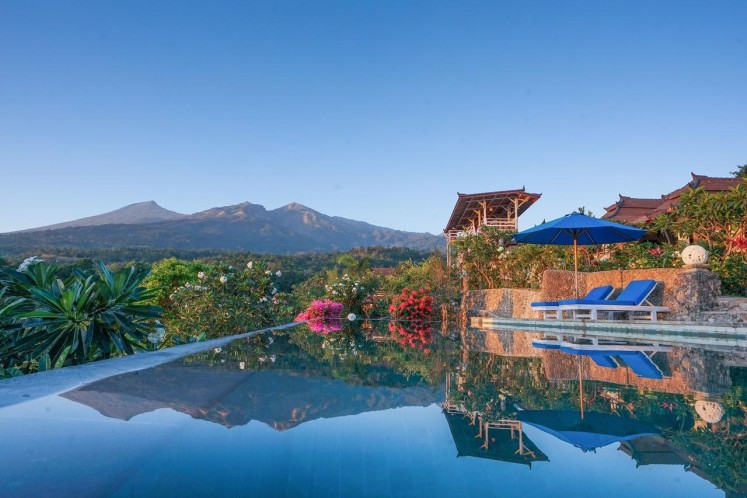 Rinjani Lodge in Lombok, West Nusa Tenggara. (Courtesy of/Booking.com)
Borobudur, Yogyakarta
This location features a variety of cycling paths along with beautiful outdoor views of traditional houses, villages and rice fields.
Where to stay: Located in Sleman, Villa Arusha Jogja is 15 kilometers outside of Yogyakarta and surrounded by rice fields and a panorama view of Mount Merapi.
Bukittinggi, West Sumatra
The town of Bukittinggi is incredibly mountainous and contains various sightseeing features, such as the Ngarai Sianok which offers a valley surrounded by cliffs and lakes. This spot is ideal for travelers who enjoy cycling, trekking and taking leisurely walks.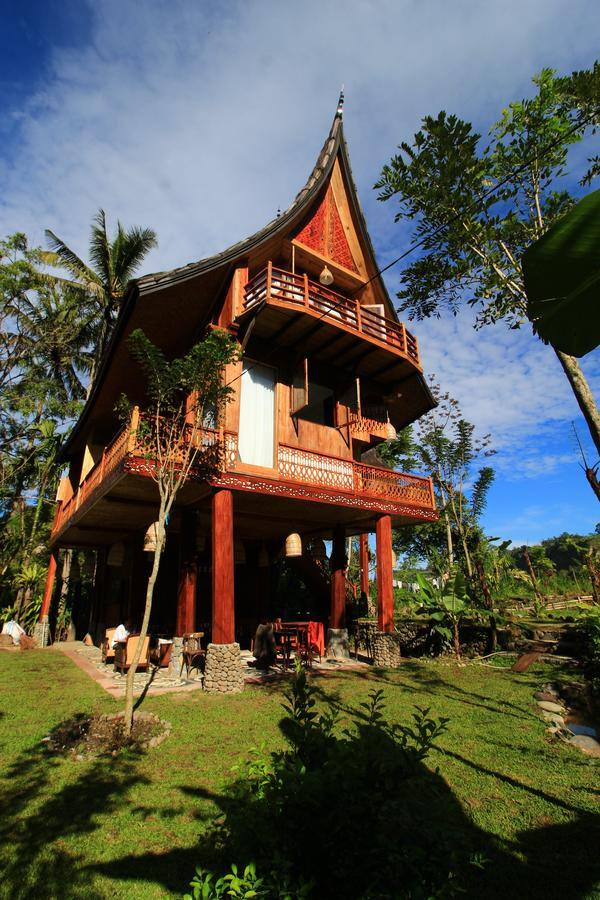 Padi Ecolodge in Bukittinggi, West Sumatra. (Courtesy of/Booking.com)
Where to stay: Padi Ecolodge provides interesting outdoor activities for travelers along with great outdoor views. (cal/wng) 
Your premium period will expire in 0 day(s)
close x
Subscribe to get unlimited access
Get 50% off now